MEET THE STARTUP: HOOVES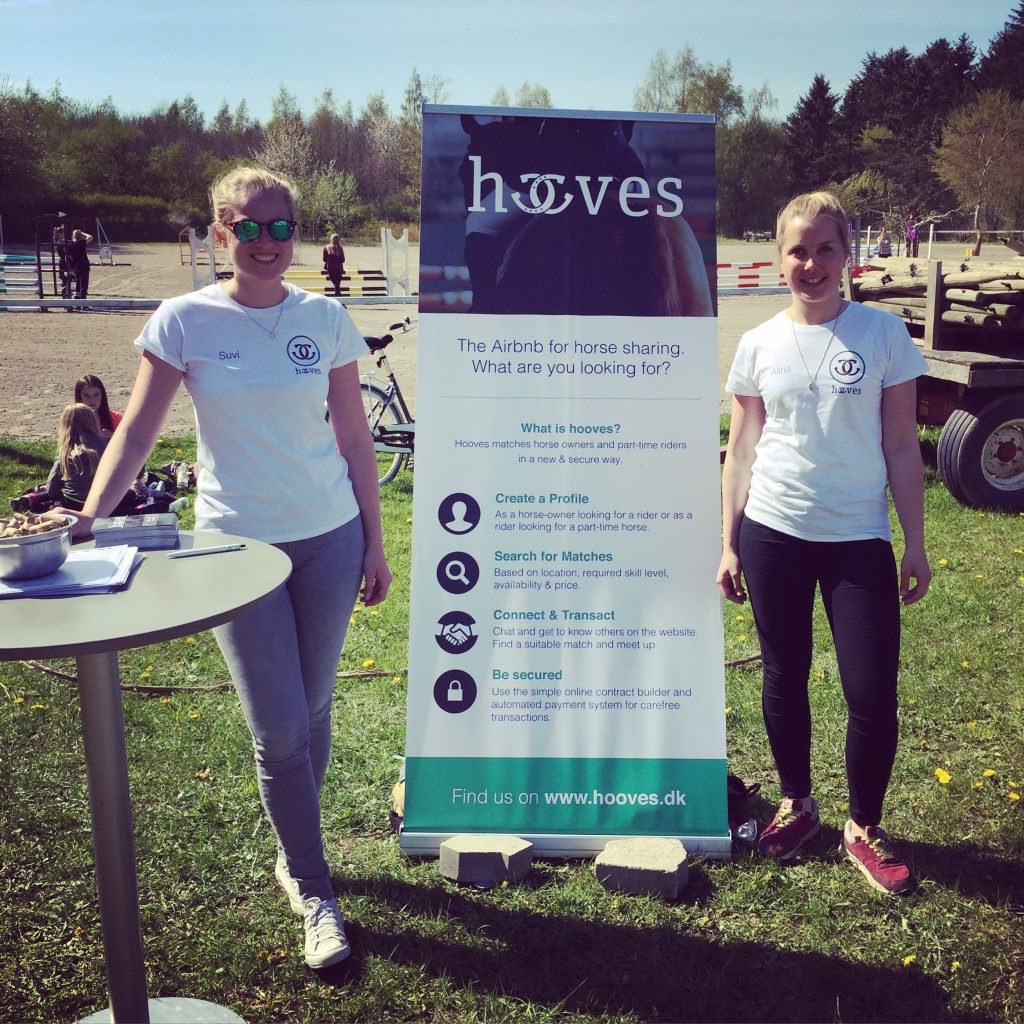 Often the first thing that comes to mind when thinking of horses is: "Ah I remember those crazy pony girls back in elementary school". Next, you might think of how much of a snob sport it actually is, only possible if you have piles of money to put into it. Who would want to pay more on a horse's box rent than your actual apartment in Copenhagen…
I was one of those crazy pony girls. Still am. And so is Alina. We met last year while starting our Master's studies at CBS and immediately bonded over our passion for horses. I had had this idea for Hooves swirling in my head for over a year but never having the balls to actually go for it. But then I attended CBS Entrepreneurial Day (sounds cheesy I know). We were sitting in the big auditorium with some study friends and listening to Mads Faurholt­ Jørgensen when it hit me – inspiration. Immediately afterwards I pulled Alina aside and told her about my idea, and she was just as excited about it as I was!
When dreams come true
Fast forward to today – exactly a year later. We are co­founders of an actual company, backed by an angel investor, a part of the CSE community, and we have our MVP product up and running with an app on the way. We have talked to hundreds of equestrians around Denmark, gotten around 300 users organically onto the website and attended several startup events, including last year's Slush in Finland. On top of everything, we are a thousand startup (and life) lessons wiser.
This is a company to which we are both immensely devoted to as it stems from our passion in life. Horses are a lifestyle, it consumes you to the core. So being able to work around that is a dream come true, and addressing problems we are all too familiar with – not having enough time or money, not trusting a new person with your horse – just makes us that much more motivated. Hooves is created around our vision to make owning a horse a tad easier as well as to make not owning one less of a roadblock, in other words, to transform this so­-called "snob sport" into something everyone can enjoy. We strive to revolutionize the ever­-so traditional industry and bring it into a new, transparent and accessible era. To bring it into the sharing economy.
Don't forget to check out our company overview, and come say hi to us at this year's CBS Entrepreneurial Day 2016!
Hope to see you there,
Suvi Kaario Co­founder of Hooves