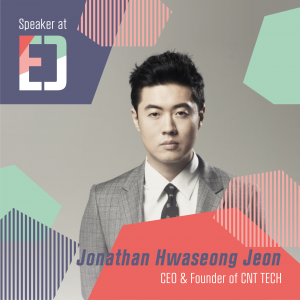 Jonathan Hwaseong Jeon
The Korean super entrepreneur, Jonathan Hwaseong Jeon is the CEO and founder of CNT Tech Co., of where it currently holds around 96% of market share with its food tech platform, having more than 1-2 trillion transactions a year. The food tech platform combines new technologies into its user face, and is in the process of combining AI (artificial intelligence) and voice recognition, making food ordering even smarter.
Jonathan Hwaseong Jeon is also the founder of the startup accelerating program from 2012, Jeon Hwaseong's Adventure, which helps Korean food tech, O2O, and ICT startups with support, mentoring, business development, and has already coached over 50 early-stage tech startups. Besides being an innovative entrepreneur and pioneer within food tech, Jonathan also serves as an Adjunct Professor on several universities, such as ChoongAng University, Sogang University, and Dankook University.