MEET THE STARTUP: SYNGJA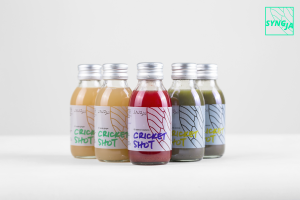 Syngja is a brand new remake of Insekt KBH, a beverage manufacturer of cricket enriched drinks. The two co-founders, Jakob Rukov & Philip Price (ph.d. in molecular biology and a current CBS student, respectively), founded the company from the basis of a shared passion for sustainable food solutions, namely edible insects. The original company was founded precisely a year ago, and launched its first market prototype product, FEMTEN Fårekyllinger, in late February 2017 – an apple ginger shot containing the equivalent of fifteen crickets.
Shortly after, the product was distributed in a small cluster of Copenhagen specialty stores besides various online stores across the country and one outlet in Norway. On top of that, Insekt KBH was granted DKK500,000 from Innovation Fund Denmark to continue product development and technical improvements. To the founders, this was a clear sign that large stakeholders saw significant commercial potential in the concept value of insect-enriched beverages. Similarly, this grant could be witnessed as an extension of contemporary society's broader focus on edible insects as a valuable resource for the present and future.
However, a failed Kickstarter launch in May 2017 brought expectations down to earth and forced the company to reassess its value proposition. One thing was to attract the initial attention of investors and funding institutes; but if consumers did not appreciate or understand the product, Insekt KBH's attractiveness would not last for long.
Commencing the work in June, Insekt KBH therefore undertook the daunting task to rebrand and restructure its entire company entity. Aiming to learn from their (many) mistakes, the strategic aim was to refocus dedication onto the core product – something which had drifted from their sights as they got caught in the (in their own eyes) overwhelming hype and media attention.
Today, less than 3 months after, Syngja is borne, carrying a new set of market products that are streamlined to accommodate modern mainstream consumers. The intense sprint has also seen the company move (and scale) production to automated facilities. And while it has been extremely hard work, the learning curve has been almost vertical linear. In the founders' own eyes, it bears witness that the notion of 'fast doing, fast failing' can be highly constructive as long as you do 'fast learning' too.
Jakob and Philip are delighted to share and discuss their own experiences on this topic – besides talking much more on the Syngja products and vision – at CBS Entrepreneurial Day 2017.