MEET THE STARTUP: MAIN & PARTNERS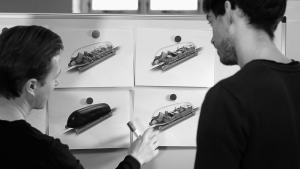 Today, we are happy to introduce the vision behind Main & Partners, a CSE-started consultancy startup who's mission is to push radical innovation in the world. Now, while that might sound overly ambitious (or even cliche), Founder and Creative Director Alexander Main breaks down his vision to achieve just that. Welcome to Main's Master Plan.
Step 1: Become self-sufficient (VaaS – Visualization as a Service)
Because any great idea can – and will eventually fail due to lack of funding, the first step in the plan is to become self-sufficient. This is achieved through offering B2B consulting services with quick turnover (low risk – steady growth). Although old-school, this setup allows the company to grow step by step, gaining experience and building key relationships.
In this case, the service of choice is "photo-realistic 3D product visualizations", offered to companies in the consumer electronics, automotive, life-style, health and aerospace sectors. Instead of developing our own products, we help other companies better communicate their own. On itself, this is a very interesting area which we are extremely passionate for. We already have the skills to visualize any product or idea at the ultra-realistic level, whether it's real or not giving us a great power. More about CG product visualizations can be read at our blog post: "The New Era of Product Photography is Not Photography".
Step 2: Expand towards development (IaaS – Innovation as a Service)
Here is where things become more exciting. As we grow our visualization business and stabilize our pipeline, we will expand towards the actual development of innovative technology products (initially at the conceptual level). Together with our world-class 3D Visual Artists, we will add Industrial Designers, Engineers and Technologists to our team, all committed to the creation and envisioning of future products. Our company will create its own mini "Skunkworks" division, an "Innovation Squad" ready to develop its own ideas, and offer B2B innovation services.
Step 3: Becoming an Idea Incubator (Joint Ventures)
At this stage, our consultancy will engage in higher-risk, but higher-rewarding activities, such as the creation/co-creation of products and the launching of spinoff companies/joint-ventures. This will turn the company more business and investing oriented, while retaining its highly innovative and technology-focused core.
Currently, we are at Stage 1, having reached a modest "self-sufficient" status a few months ago (which is amazing on itself). We've had the pleasure of collaborating with MIT's Hyperloop, visiting SpaceX (meeting Elon Musk for one second), working with several technology startups and recently with Danish hearing aid company "Widex".
Running the company is full of ever-lasting challenges, such as building a dream team, securing profitable clients and scaling up the business. However, I look forward to having a life-time to growing this vision, step by step, the old-fashioned way.
———
Visit Main & Partners at CSE or online via: www.mainandpartners.com