LIMELIGHT: HOW TO NAVIGATE IN MUSIC STREAMING AS AN INDEPENDENT ARTIST
Music streaming has revolutionized the music industry. As a result of this, CD sales has declined every year since the launch of Spotify – October 2008. Not many people know this, but in fact TDC was the first-mover in the era of music streaming. They launched TDC Play in March 2008 – more than 6 months before Spotify. TDC made the costly mistake of only making TDC Play available to their own customers only.
Since 2008, music streaming has been made available all around the world, and the main players in the market are Spotify, Apple Music, Tidal, Deezer, Pandora and Napster.
The above-mentioned platforms works for the well-established artists, who are signed on major (Sony, Warner and Universal) and large record labels. It's a completely different story for the unsigned independent artist. They will most likely never get exposure on these platforms, as the influential charts are owned by the record labels, and they only push the exposure forward on their own artists. If they somehow gain exposure, the payment per stream is nowhere near the level of the established artists payment.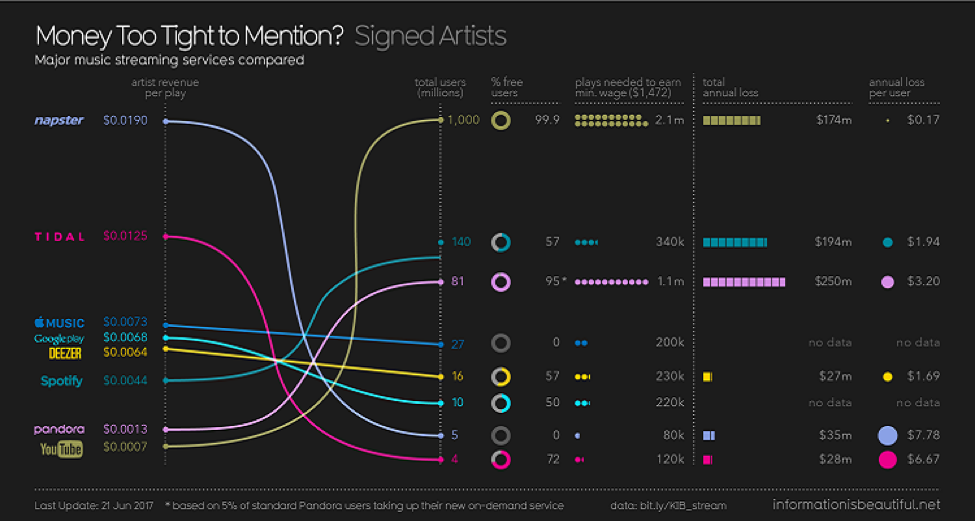 Source: https://www.digitalmusicnews.com/2017/07/24/what-streaming-music-services-pay-updated-for-2017/
As an alternative to the aforementioned music services, the independent artist can upload their music to Soundcloud. Contrary to the other platforms above, it is free to upload on Soundcloud, but here the artist will not get paid at all, and the problem with lack of exposure is even more significant in this case. Because of an inefficient matching-algorithm and too much unsorted music, it is almost impossible for a relevant listener to stumble upon like-minded music. Soundcloud has evolved into a big mess of sound in various verifications (upcoming music, snippets of famous songs, podcasts etc.).
Limelight is the solution
It is really a struggle for the up-and-coming artist to get a breakthrough, and talent is definitely not enough today. You need connections, money and a marketing plan to gain a following. Limelight will change that! It's a platform with a strong focus on the undiscovered talent and the ease of finding up-and-coming music from the underground environment.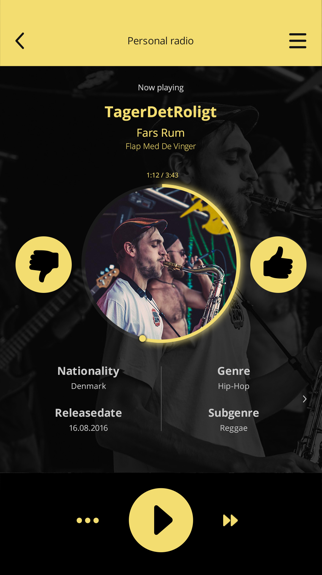 Because Limelight's unique matching-algorithm intuitively learns your music taste, you will be matched up with relevant artists through your very own personal radio (picture). Here you don't need any knowledge about the underground scene to begin discovering. It's as easy as one click (play) to start your journey of discovery. The music finds you, and not the other way around.
Why choose Limelight as an artist? (read more – Danish)
1. LISTENER FANBASE
The artist is guaranteed to be heard by a relevant audience with preferences towards their genre.
2. STATISTICS ON LISTENERS
The artist will learn about their listeners through Limelight, as we provide them with extensive data feedback – free of charge.
3. GET SIGNED AND BOOKED
The record labels and booking agencies scout talent through Limelight's data.
4. GET PAID FOR STREAMS
KODA-members will get paid for streams on Limelight.
Limelight is for every kind of up-and-coming artist. To insure the quality on the platform, we simply trust the listeners' ear. If the listeners 'upvote' a track it will be exposed to more likeminded listeners, and if they primarily 'downvote' a track it will be exposed less.
If you're and up-and-coming artist, upload your music on Limelight's website now, and be ready on the platform when the app is launched for the listeners in the beginning of 2018.