MEET THE STARTUP: PURCITY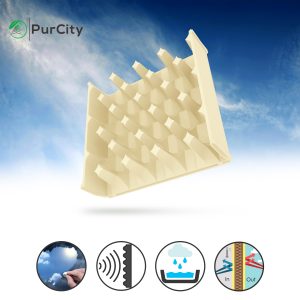 Morteza is the CEO and founder of PurCity, and the one behind the idea. He was born and raised in Tehran, Iran, which has one of the highest air pollution rates in the world. During his childhood, he lost one of his best friends, due to the lung cancer exposed by air pollution, which significantly affected him. Thus, he has always had the ambition to find solutions for this problem, and had several different ideas that led him to start up Purcity. Air pollution is a serious worldwide issue, that takes about 8 million lives every year, which is more than the effects of a war.
PurCity offers an innovative multi-functional construction panel (GapS) that smartly designed to provide several valuable benefits for its customers such as:
Purifying the air using highly efficient Photo-catalytic technology through natural ventilation

Adding extra thermal and acoustic insulation

Rain harvesting technology
GapS is a maintenance free product, and will be cleaned through rain. It is a 100% recyclable and environmental friendly product with a competitive price compare to normal composite panels.
GapS' main applications are including of; Highway Noise Barrier, Building Facades, and others. 
Facing new challenges
In the beginning, Morteza's biggest challenge was to figure out the right approach for the main idea. The first approach was – and is – brilliant and highly efficient. However, it was extremely hard and expensive to implement. After six months of studying, the team came up with the GapS' idea, and then they faced the greatest challenge: to design an efficient multifunctional product, that can work the best, offer several great features, and still be as reliable, as it is now.
Founding a successful startup has a lot of challenges ahead, such as finding the right people, protecting your idea from thefts, taking your project to the next level, convincing people to trust you and your business, and so much more. It is a long roller coaster that your expertise, team and experience will make it easier to happen.
Nothing is impossible!
Every connection can be an opportunity; it depends on how you are looking at it, and how can you turn it into one.
NEVER SIT AND WAIT FOR THE LIGHT TO COME, GO FOR IT, AND IF THERE IS NO LIGHT, JUST MAKE IT YOURSELF!
Nothing is impossible; but it does not come easy!
Read more about PurCity on Facebook, connect on LinkedIn, or follow the startup on Twitter, to learn more about the inspiring business!